WHYCHUS CREEK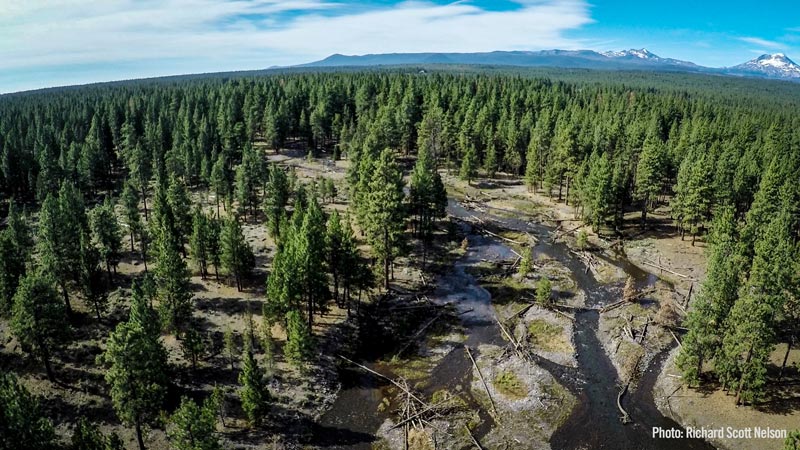 The Deschutes Partnership has accomplished the following in Whychus Creek:
Land Conservation:
On Whychus Creek, the Deschutes Land Trust is focused on protecting the largest remaining undeveloped floodplain properties. These properties are located primarily on lower Whychus Creek downstream from the town of Sisters. Conservation (and subsequent restoration) is focused in this area because the majority of the historic spawning and rearing habitat was located in these low gradient reaches of Whychus Creek and, therefore, the restoration potential is greatest at these sites. Large scale conservation and restoration in this area will create significant improvements to the available habitat for reintroduced salmon and steelhead.
To date, the Land Trust has protected four properties: Camp Polk Meadow Preserve (145 acres, 1.5 stream miles); Rimrock Ranch (1130 acres, 1.9 stream miles); Whychus Canyon Preserve (450 acres, 1.9 streams miles, and the Pond Addition to Camp Polk Meadow Preserve (6 acres, .25 stream miles). The Land Trust's strategy calls for protecting an additional 4.5 miles of first-tier properties. We also have a secondary goal of integrating smaller strategic properties and, in the long term, portions of Indian Ford Creek including its confluence with Whychus Creek. Of this work, we anticipate protecting an additional 3.5 miles of Whychus Creek in the nex

t six years.
Streamflow Restoration/ Water Quality:
The Deschutes River Conservancy has been working on streamflow restoration in Whychus Creek since the late 1990s. Building on this history, the Deschutes River Conservancy will protect up to seven cubic feet per second (cfs) of new permanent flow restoration over the next six years. In combination with ongoing temporary leasing and past permanent restoration efforts, the Deschutes River Conservancy anticipates achieving the state's flow target of 33 cfs in lower Whychus Creek during the mid-to-late summer months.
Fish Passage and Screening:
To date, the Upper Deschutes Watershed Council has completed eight passage and/or screening projects in Whychus Creek and there are seven remaining projects to be addressed. The Upper Deschutes Watershed Council expects to address all seven of these within the next six years.
Stream Habitat Restoration:
To date, the Upper Deschutes Watershed Council has restored approximately two miles of Whychus Creek has an additional nine miles of restoration in the planning stages. The Upper Deschutes Watershed Council expects that seven of these nine miles will be restored within the next six years.
Outreach:
Much of the long-term success of the restoration efforts in Whychus Creek will depend upon the degree to which the local community is connected to and engaged in local watershed management issues. The Deschutes Partnership's outreach programs in Whychus Creek are focused on building this connection through on-the-ground stewardship activities that help engage local landowners, decision-makers and others who are critical for the successful recruitment and implementation of the Partnership's projects, many of which require extensive community support. Currently, the Partnership works with approximately 2,000 people per year via its outreach programs, which include, community presentations, restoration tours and has a sustained media presence in local newspapers, websites and other media outlets.
Effectiveness Monitoring:
Since 2006, the Upper Deschutes Watershed Council has been monitoring outputs (e.g., cfs restored, miles restored, # of plants, barriers removed, etc.) as well as outcomes (e.g., water quality improvements, macroinvertebrates, etc.) in Whychus Creek. The Upper Deschutes Watershed Council will continue this monitoring throughout the next six years and use this information to track restoration progress and effectiveness.